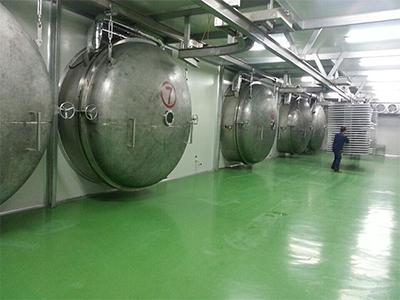 Application
The BLK2000kg industrial freeze dryer's capacity is 2000kg with an effective freeze drying area of 200m2. It is applicable to the freeze drying of produce, flowers, medicines, bio-products, chemicals and liquid food.
Freeze dried flowers and vegetables
Parameters
| | |
| --- | --- |
| Model | BLK2000kg |
| Shape and Size | Circular 2800*17000mm |
| Installed Power | 320kw- the actual usage generally ranges between 60 60 80% of the full power, i.e, 190 to 250kw |
| Tray's Area | 196.2m2 |
| Shelf | 46 |
| Cold Trap Temperature | -40℃~-60℃ |
| Vacuum Degree | ≥15Pa |
| Heating way | Steam or Electric heating |
| Capacity | 2000KG |
* Not only do we offer the above models, but we can customize the freeze dryers to have a 0.5m2-200m2 effective freeze-drying area based on customer requirements.
Features
Different from traditional drying equipment that requires an additional quick freeze machine or cold storage, this freeze dryer completes both freezing and drying.
An ultra-large, effective freeze drying area allows the freeze dryer to be applied in the production of ultra-large scale frozen and dried food.
It saves anywhere between 20 and 30% of energy when compared to other similar products available on the market today.
High automation degree: a single operator can operate multiple devices, saving labor costs.
The waste heat recovery system developed in house is used, saving operation costs.
Various fault alarms ensure operation is more stable and safe.
Details

Compressor: compressor brands are primarily BOCK (Germany), FRASCOLD (Italy), and KOBELCO (Japan), each of which has an excellent freeze performance and reliability.
Vacuum pump: vacuum pump brands are primarily TUTHILL KINNEY (USA), LEYBOLD, and ULVAC (Japan), each of which has an excellent accuracy and vacuum effect.

All devices can be controlled manually and automatically on screen.
Display, store and viewing of a variety of temperatures, vacuum degree and corresponding curves, all simultaneously.
Fault-alarming function
Index
freeze dryer, lyophilizer, freeze preservation dyer, commercial dryer, industrial freeze dryer